Canon: S4
Stories
Characters:
Twilight Sparkle
On one of my mind trips, I create a pocket dimension that is Equestria. I proceed to conquer it, for it is my right as its creator.
*Yes; this is exactly what it sounds like. The prompt was: 'your self-insert takes over Equestria'. What else was I supposed to do?
Characters:
Fluttershy
Celestia desperately searches for an item of the right shape to scratch the itch in her ass. Alas, there is nothing in her room that would fit. It is then that Fluttershy, with her pretty snout, comes knocking on the door.

Rated 18+ for Celestia sitting on Fluttershy's face, watersports and scat.
Characters:
Derpy Hooves
Dreamscape is a place of opportunities, as a brony finds out when he opens a portal to Equestria.
In lucid dreams, the only boundaries are those that one self-imposes, but why should there be any limits at all? It's not like anything bad can come out of a dream, right?
Rated 18+ for rape.
Characters:
Princess Luna
It's time for a routine check up on Nightmare Moon. Celestia removes all potential means of escape to make sure the captive stays put. Despite her busy schedule and the memory of her sister still fresh in her mind, the alicorn in mourning finds it in her heart to talk to the condemned pony on the moon.
Characters:
Mane 6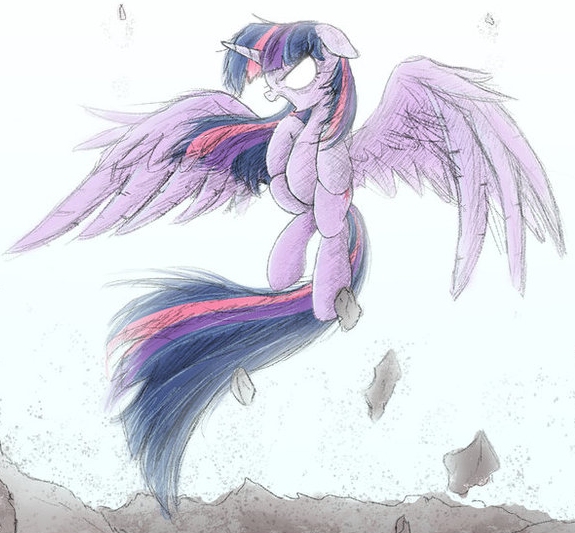 The Mane Seven are on a mission to spread friendship across Equestria. It sounds easy enough, but should they really let their guard down?
Twilight is confident that she can cope with any situation. Maybe she's right and there really is nothing to worry about… Maybe.
Characters:
Maud Pie
When the Fine Bros. get Maud Pie to react to an episode of Teen Titans Go! on their Youtube channel, chaos breaks out on Youtube. Pinkie Pie comes to the conclusion that the only way to fix this problem is to bring Cartoon Network back.
Characters:
Nightmare Moon
,
Princess Celestia
,
Princess Luna
More than 1000 years ago, something catastrophic happened that would change the course of Equestrian history forever. A young Princess, angered by injustices committed against her, will give in to her jealousy and rage and be transformed into a Nightmare.
This is a tale you will not find in any history books. This is a first-hand account of the dark horrors that befell Equestria. This is the true story of Nightmare Moon.
Characters:
Bon-Bon
,
Carrot Top
,
Derpy Hooves
,
Lyra
,
Original Character(s)
,
Other BG Pony
,
Pipsqueak
A foal sitter named Shut Eye had the great misfortune of one too many run-ins with the Princess of the Night. His special talent, magic that lets him enter and alter dreams, makes him uniquely suited to performing duties that Luna needs assistance with.
When a child goes missing and a nightmare becomes reality, Shut Eye will have to travel far and face terrors none could have ever imagined.
Characters:
Angel
,
Apple Bloom
,
Applejack
,
Berry Punch
,
Big Macintosh
,
Bon-Bon
,
Caesar
,
Caramel
,
Changelings
,
Cheerilee
,
Cheese Sandwich
,
Coco Pommel
,
Cutie Mark Crusaders
,
Derpy Hooves
,
Diamond Tiara
,
Dinky Hooves
,
Discord
,
Fancy Pants
,
Fleur de Lis
,
Flim & Flam
,
Fluttershy
,
Granny Smith
,
Gummy
,
King Sombra
,
Lyra
,
Mane 6
,
Mr. Cake
,
Mrs. Cake
,
Opalescence
,
Original Character(s)
,
Other BG Pony
,
Owlowiscious
,
Pinkie Pie
,
Pound Cake
,
Princess Cadance
,
Princess Celestia
,
Princess Luna
,
Pumpkin Cake
,
Queen Chrysalis
,
Rainbow Dash
,
Rarity
,
Royal Guards
,
Sapphire Shores
,
Scootaloo
,
Shining Armor
,
Silver Shill
,
Silver Spoon
,
Snails
,
Snips
,
Spike
,
Spitfire
,
Sweetie Belle
,
The Doctor
,
The Great and Powerful Trixie
,
The Mayor
,
The Wonderbolts
,
Trenderhoof
,
Twilight Sparkle
,
Twist
,
Winona
,
Zecora
The Friendship is Epic series as reached it's third season. Flare gains a new tool known as the Blessings of the Night to help him with his friendship adventures, and to defeat the evil Dr. Swinebutt, and other villians that may be contained in here.